Solo Laminator
Overview:
Although the Solo costs less than other laminators, it still provides all the important features found on more expensive models including:
Top and bottom rollers covered with hard silicone.
Rigid steel cores in top roller for better pressure.
Heavy duty motor.
Automatic take up shaft.
Spring loaded top roller.
Rugged steel and aluminum construction.
Accommodates boards up to 3/4" thick .
8 Seconds per foot.
Laminating:
With your Solo you can laminate media from long wraps down to smaller inkjet photos. Even if you are using solvent or archival inks, laminating offers important benefits.
Provides scratch resistance and UV protection
Protects from chemicals, dirt and fingerprints
Keeps your print looking great during its entire life
Extends the life of the print
Prints look more vibrant
Cold laminates have excellent clarity
Variety of finishes-gloss, luster, matte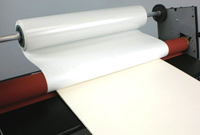 Mounting:
The Solo will apply adhesives to boards, then roll down the print to the board, quickly, easily and smoothly. It eliminates the hassles of squeegeeing by hand or the high cost of contracting out your mounting work.
Specifications:
Roller Widths

25", 38", 55" or 65"

Board Thickness

up to 1" thick

Speed

8 seconds per foot (or 7.5 ft. per minute)

Electrical

110 volt (U.S.) or 230 volts (for overseas)

Outside Dimensions

25": 17" W x 31" L
38": 17" W x 44" L
55": 17" W x 61" L
65": 17" W x 71" L
Back to the top